Walkways & Driveways
Beautify your home and add to its value with a new decorative, interlocking concrete, brick paver walkway or driveway. We will assist you with your design ideas and complete the project to your exact specifications. Interlocking concrete pavers are a smart and elegant design choice. They are manufactured to withstand weight and weather. Driveway pavers come in a wide variety of colors, shapes, textures, and designs. Interlocking Concrete Pavers are easy to maintain and they provide excellent drainage system for your driveway.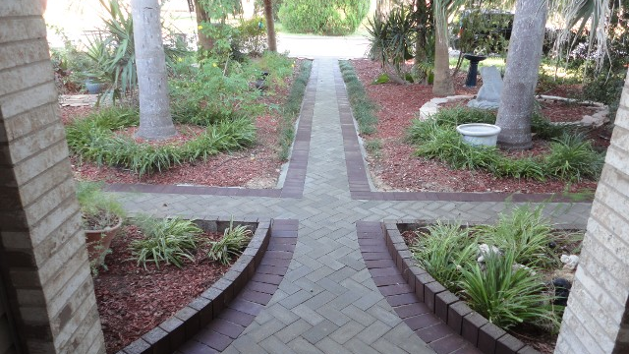 Hours of Operation: Monday – Sunday, 7:00 a.m. – 7:00 p.m.
| | | |
| --- | --- | --- |
| | | |
| League City, Texas, Belgards Mega Urbana Interlocking Pavers | League City, Texas, Belgards Mega Urbana Interlocking Pavers | League City, Texas, Belgards Mega Urbana Interlocking Pavers |
| | | |
| --- | --- | --- |
| | | |
| Hitchcock, Texas, Belgard Mega Arble Driveway | Hitchcock, Texas, Belgard Mega Arble Driveway | Hitchcock, Texas, Belgard Mega Arble Driveway |
| | | |
| --- | --- | --- |
| | | |
| Houston, Texas, Belgard Mega Bergerac Driveway, Walkway and Patio | Houston, Texas, Belgard Mega Bergerac Driveway, Walkway and Patio | Houston, Texas, Belgard Mega Bergerac Driveway, Walkway and Patio |
| | | |
| --- | --- | --- |
| | | |
| Santa Fe, Texas, Outdoor Kitchen, Travertine Flooring, Veneer Stone, Natural Stone, Fire Place, Walkway and Driveway | Santa Fe, Texas, Outdoor Kitchen, Travertine Flooring, Veneer Stone, Natural Stone, Fire Place, Walkway and Driveway | Santa Fe, Texas, Outdoor Kitchen, Travertine Flooring, Veneer Stone, Natural Stone, Fire Place, Walkway and Driveway |
Friendswood Texas Pavestone

Driveway Walkway Drainage

Pool Surounding Pergola

Friendswood Texas Pavestone

Driveway Walkway Drainage

Pool Surounding Pergola
Friendswood Texas Pavestone

Driveway Walkway Drainage

Pool Surounding Pergola

Friendswood Texas Pavestone

Driveway Walkway Drainage

Pool Surounding Pergola