Columns and Fencing.
To keep your children and pets safe from busy streets, to guard your property from intrusion, to lounge in the privacy of your own backyard, to keep uninvited guests from your yard or patio. Advanced Curb Appeals quality fencing is the perfect addition to any home, beautifying your property and setting your boundaries in a subtle, attractive manner.
We offer a complete line of attractive fencing solutions for you to choose from....
• Aluminum
• Chain Link
• Vinyl
• Cedar Fencing
• Treated Pine
• Gates & Add Ons
• Custom Builds
• Wrought Iron
With our committed to the highest standards in service and our detailed craftsmanship, our goal is to enhance and protect your property while supplying privacy, value, and safety for your family.

Let our fence experts at Advanced Curb Appeal Landscape Design plan with you. Let us be your architect or your contractor to develop the ideal fence. Please contact us to take advantage of our free estimate campaign.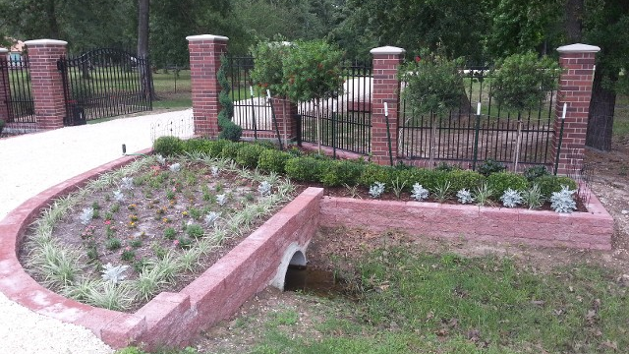 Hours of Operation: Monday – Sunday, 7:00 a.m. – 7:00 p.m.
Advanced Curb Appeal Landscape Design offers a wide selection of brick pavers and stone veniers. We also provide complete installation, PaveStone,Tejas and Belgard Products. Also we install Pergolas, Flagstone, Brick Columns, Custom Brick Mailboxes, Proper Drainage Systems, Aquascaping (i.e. Ponds, Waterfalls, Fountains) Retaining Walls, Boulder Design, Natural Steps, Elevaton Surfaces, Driveways, Driveway Extensions, Custom BBQ's, Outdoor Kitchens, Sod, Fencing and Horticultural Design for curb appeal—contact us for details
Click on Images to Enlarge Photo
| | | |
| --- | --- | --- |
| | | |
| Houston, Texas, Before Picture | Houston, Texas, Cinder Block Wall and Columns pre brick | Houston, Texas, Brick Wall and Brick columns |
| | | |
| --- | --- | --- |
| | | |
| Houston, Texas, Brick Wall, Brick columns and Cedar Fencing | Houston, Texas, Brick Wall, Brick columns and Cedar Fencing | Houston, Texas, Brick Wall, Brick columns and Cedar Fencing |
| | | |
| --- | --- | --- |
| | | |
| Houston, Texas, Brick Wall, Brick columns and Cedar Fencing | Houston, Texas, Brick Wall, Brick columns and Cedar Fencing | Houston, Texas, Brick Wall, Brick columns and Cedar Fencing |
| | | |
| --- | --- | --- |
| | | |
| Santa Fe,Texas, Austin Stone Columns and treated Fencing | Santa Fe,Texas, Austin Stone Columns and treated Fencing | Santa Fe,Texas, Austin Stone Columns and treated Fencing |
| | | |
| --- | --- | --- |
| | | |
| Before Picture, Houston, Texas, Cedar Fencing and Drainage System | After Picture, Houston, Texas, Cedar Fencing and Drainage System | Houston, Texas, Cedar Fencing, Drainage System, and Landscaping, |
| | | |
| --- | --- | --- |
| | | |
| Houston, Texas, Cedar Fencing, Drainage System and Landscaping. | Houston, Texas, Cedar Fencing, Drainage System and Landscaping. | Houston, Texas, Cedar Fencing, Drainage System and Landscaping. |