Fire Places and Fire Pits
Outdoor living in Texas is a year round event – but for the most part, it's most enjoyable in the mild fall, winter & spring months. During those cool evenings, a fire feature tends to be one of the most popular outdoor features. Basically, a traditional Texas backyard must have some sort of firepit or fireplace to complete the overall project. Advanced Curb Appeal Landscape Design is one of the best fits for designing and building your outdoor fireplace because of our seamless integration with the several phases that need to come together to complete such a fire feature.
Fireplaces & firepits require the coordination of several key elements – masonry, gas, plumbing, and stonework. The masonry work in Texas is the craftsmanship of the block, mortar, and rebar. This is the infrastructure of the fireplace or fire pit. The plumbing and gasline work is completely necessary for a gas fireplace or gas fire pit. This involves running underground gaslines or propane lines from a gas source (usually a propane tank or gas meter), to the fire feature or fireplace. The finishing touches involve stonework, paint & stucco – which complete the overall fireplace project.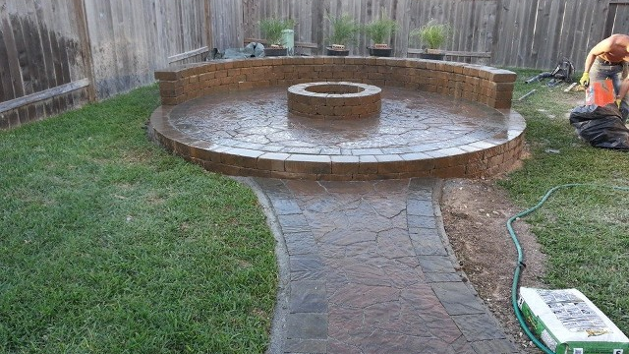 Hours of Operation: Monday – Sunday, 7:00 a.m. – 7:00 p.m.
Custom Fire Places and fire Pits
| | | |
| --- | --- | --- |
| | | |
| Santa Fe, Texas, Fire Place with Natural Stone/ Veneer Stone | League City, Texas, Fire Pit | Houston, Texas, Fire Pit and Interlocking Patio |
| | | |
| --- | --- | --- |
| | | |
| Sugar land, Texas, Fire Pit, Interlocking Brick Paver Patio, Retaining Wall, Landscaping, Outdoor Lighting, Drainage System | Sugar land, Texas, Fire Pit, Interlocking Brick Paver Patio, Retaining Wall, Landscaping, Outdoor Lighting, Drainage System | Sugar land, Texas, Fire Pit, Interlocking Brick Paver Patio, Retaining Wall, Landscaping, Outdoor Lighting, Drainage System |
| | | |
| --- | --- | --- |
| | | |
| Pearland, Texas, Indoor Veneer Fire Place | Pearland, Texas, Indoor Veneer Fire Place | Pearland, Texas, Indoor Veneer Fire Place |
| | | |
| --- | --- | --- |
| | | |
| Sugar land, Texas, Travertine Patio, Fire Pit, Retaining Wall, Drainage System | Friendswood, Texas, Bench Seating, Brick Paver Patio, Fire pit, Drainage System | Friendswood, Texas, Bench Seating, Brick Paver Patio, Fire pit, Drainage System |
| | | |
| --- | --- | --- |
| | | |
| Santa Fe, Texas, Brick Paver Patio, Fire pit, Drainage System | Santa Fe, Texas, Brick Paver Patio, Fire pit, Drainage System | Santa Fe, Texas, Brick Paver Patio, Fire pit, Drainage System |
| | | |
| --- | --- | --- |
| | | |
| League City Texas Belgar Fire Pit | Friendswood Texas Travertine Fire Pit | Missouri City Belgard Fire Pit |
League City Texas Fire Pit, Mega Arble

Brick Paver Patio

League City Fire Pit, Mega Arble

Brick Paver Patio

League City Fire Pit, Mega Arble

Brick Paver Patio
Friendswood Texas Fire Pit, Travertine

Channel Drain, Fountain, Landscaping

Friendswood Texas Fire Pit, Travertine

Channel Drain, Fountain, Landscaping

Friendswood Texas Fire Pit, Travertine

Channel Drain, Fountain, Landscaping
Galveston Island Fire Pit, Patio

Retaining Walls, Steps, Landscaping,

Lighting

Galveston Island Fire Pit, Patio

Retaining Wall, Steps, Landscaping,

Lighting

Galveston Island Fire Pit, Patio

Retaining Walls, Steps, Landscaping

Lighting
| | | |
| --- | --- | --- |
| | | |
| Houston Texas Fire Pit, Travertine Patio | Houston Texas Fire Pit, Travertine Patio | Houston Texas Fire Pit, Travertine Patio |