Pergolas are often used as self-supporting alters that curve over pathways to create an eye-pleasing flourish to a garden. Except now even this role is being challenged and redefined. They can now be an extension to your house. These structures can now provide limited shading to a patio. Also, if you have a shed, pool house, or detached garage, these arches can be stretched and extended to form impromptu passageways or partial tunnels that provide limited shelter between your home and other outbuildings.
Pergolas are able to provide protection from the outdoor elements. It can block out some sun and guard against light rain due to its webbed roof. Also, during hot afternoons, the roof's trellis-pattern can create an interesting lighting effect during the daylight hours. However, since this light is able to filter through the top, if you want complete shelter from outdoor elements you may consitter in some sort of separate, fiberglass cover for the structure. Not only does the pergola design offer partial protection against the weather, it can also serve as a non-evasive fencing. If you install lattice between the pillars, you now have a beautiful barrier that can provide a small amount of privacy around your home.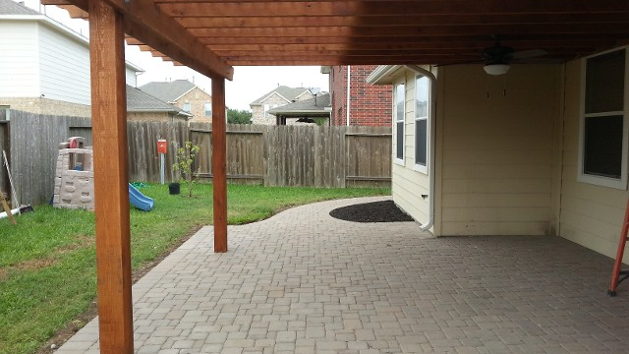 Hours of Operation: Monday – Sunday, 7:00 a.m. – 7:00 p.m.
Click on Images to Enlarge Photo
| | | |
| --- | --- | --- |
| | | |
| Houston, Texas, Pergola, Belgard Interlocking Pavers, And Privacy Fence | Houston, Texas, Pergola, Belgard Interlocking Pavers, And Privacy Fence | Houston, Texas, Pergola, Belgard Interlocking Pavers, And Privacy Fence |
| | | |
| --- | --- | --- |
| | | |
| Houston, Texas, Pergola, Belgard Interlocking Pavers, And Free Standing Retaining Wall | Houston, Texas, Pergola, Belgard Interlocking Pavers, And Free Standing Retaining Wall | Houston, Texas, Pergola, Belgard Interlocking Pavers, And Free Standing Retaining Wall |
| | | |
| --- | --- | --- |
| | | |
| Clear Lake, Texas, Pergola, Interlocking Brick Paver Patio, Drainage System and Landscaping | Clear Lake, Texas, Pergola, Interlocking Brick Paver Patio, Drainage System and Landscaping | Clear Lake, Texas, Pergola, Interlocking Brick Paver Patio, Drainage System and Landscaping |
| | | |
| --- | --- | --- |
| | | |
| Friendswood, Texas Pergola | | |
| | | |
| --- | --- | --- |
| | | |
| League City, Texas Pergola | Fire Pit and Outdoor Kitchen | Drainage System and Landscaping |
| | | |
| --- | --- | --- |
| | | |
| | Water Feature, Brick Pavers | Bench Seating and Drainage System |
| | | |
| --- | --- | --- |
| | | |
| | Belgard Brick Paver Patio | |
| | | |
| --- | --- | --- |
| | | |
| | Belgard Lafitt Brick Pavers | Brick Paver finished with Sealer |