Kitchens and BBQ's
How could anyone not love eating outside? Imagine grilling outdoor without wheeling out your grill or the convenience of having all of your cooking supplies available for you outdoors anytime you need. Advanced Curb Appeal builds outdoor kitchens and BBQ's with the same care and skill as everything else we build. Pricing for an outdoor kitchen is usually much lower then an indoor and depend on the amenities, mason work involved, and most of all the brand of grill equipment you choose to implement in your new kitchen. But, to a grill afficianado, the luxury is priceless. If you are just on a fact finding mission or are ready to start to look for quotes for a new outdoor kitchen, please give us a call.
Outdoor living areas are where families and friends spend a considerable amount of time all year round. Because of that, Texas homeowners we work with value their outdoor space and want to make the most of it. In our kitchen building business, we are seeing a trend in growth of interest and construction of our outdoor designs. Outdoor kitchens and BBQ's are a hot trend and understandably so. With the time spent outdoors, you want your outdoor living space to be the best it can be while taking advantage of many times limited space. With Advanced Curb Appeal Landscape Design of Texas, we take advantage of your space and apply our creativity to make a functional outdoor kitchen for entertaining your family and friends or just relaxing in a perfect luxurious atmosphere.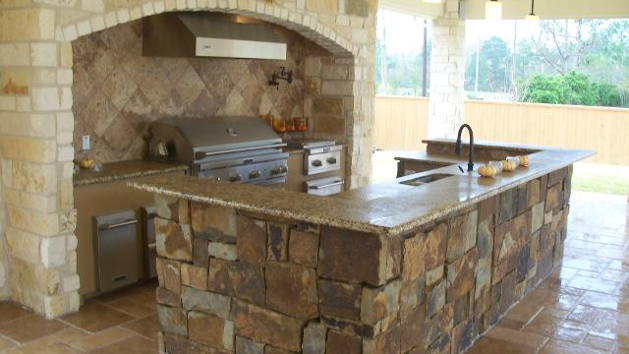 Hours of Operation: Monday – Sunday, 7:00 a.m. – 7:00 p.m.
Outdoor Kitchens and BBQ's are more then just a luxury or dream for the griller in your family, they add value to your home. Much like an indoor kitchen, you should view your outdoor one as an investment in your home. As it were, the design should be done and implemented professionally the same as an indoor kitchen. This means everything from selecting the right design concept (an island, a "L" shaped island, a "U" shaped island among the more popular choices) to selecting the best outdoor grill equipment for your outdoor kitchen. Our contractors will guide you through all of these choices to ensure we are creating the most functional kitchen for you.
Our Outdoor Kitchens and BBQ's can include any of the following...and more:
Custom Built Islands for Grilling
Custom Build Wood, Gas or Coal Fireplaces & Fire Pits
Outdoor Refrigerators
Integrated Lighting Designs
Extensive Space Planning & Designs
Click on picture to enlarge
| | | |
| --- | --- | --- |
| | | |
| Before, Pearland, Texas, Outdoor Kitchen, Veneer Stone, Retaining Wall, Brick Paver Patio | Before, Pearland, Texas, Outdoor Kitchen, Veneer Stone, Retaining Wall, Brick Paver Patio | Before, Pearland, Texas, Outdoor Kitchen, Veneer Stone, Retaining Wall, Brick Paver Patio |
| | | |
| --- | --- | --- |
| | | |
| After, Pearland, Texas, Outdoor Kitchen, Veneer Stone, Retaining Wall, Brick Paver Patio | After, Pearland, Texas, Outdoor Kitchen, Veneer Stone, Retaining Wall, Brick Paver Patio | After, Pearland, Texas, Outdoor Kitchen, Veneer Stone, Retaining Wall, Brick Paver Patio |
| | | |
| --- | --- | --- |
| | | |
| Santa Fe, Texas, Outdoor Kitchen, Travertine Flooring, Veneer Stone, Natural Stone, Fire Place | Santa Fe, Texas, Outdoor Kitchen, Travertine Flooring, Veneer Stone, Natural Stone, Fire Place | Santa Fe, Texas, Outdoor Kitchen, Travertine Flooring, Veneer Stone, Natural Stone, Fire Place |
| | | |
| --- | --- | --- |
| | | |
| Houston, Texas, Custom BBQ, Brick Paver Pool Surrounding | Houston, Texas, Custom BBQ, Brick Paver Pool Surrounding | Alvin, Texas, Custom BBQ, Brick Paver patio, Retaining Wall |
| | | |
| --- | --- | --- |
| | | |
| Michigan, Custom BBQ, Interlocking Brick Paver Raised Payio, Retaining Walls, Drainage System | Michigan, Custom BBQ, Interlocking Brick Paver Raised Payio, Retaining Walls, Drainage System | Michigan, Custom BBQ, Interlocking Brick Paver Raised Payio, Retaining Walls, Drainage System |
| | | |
| --- | --- | --- |
| | | |
| Michigan, Custom BBQ, Interlocking Brick Paver Raised Payio, Retaining Walls, Drainage System | Michigan, Custom BBQ, Interlocking Brick Paver Raised Payio, Retaining Walls, Drainage System | Michigan, Custom BBQ, Interlocking Brick Paver Raised Payio, Retaining Walls, Drainage System |
| | | |
| --- | --- | --- |
| | | |
| Bay Oaks, Houston, Texas outdoor kitchen | Bay Oaks, Houston Texas Outdoor Kitchen | Houston Texas Outdoor Kitchen |
Sugar Land, Texas Outdoor Kitchen

Sugar Land, Texas Outdoor Kitchen

Brick Paver Patio, Retaining Wall

Sugar Land, Texas Outdoor Kitchen
Pearland, Texas Outdoor Kitchen

Pearland, Texas Outdoor Kitchen

Brick Paver Patio, Drainge System

Pearland, Texas Outdoor Kitchen
| | | |
| --- | --- | --- |
| | | |
| League City, Texas Outdoor Kitchen | League City, Texas Outdoor Kitchen | League City, Texas Outdoor Kitchen |
League City, Texas Outdoor Kitchen

Fire Pit, Brick Paver Patio

League City, Texas Outdoor Kitchen

League City, Texas Outdoor Kitchen
Houston, Texas Outdoor Kitchen

Houston, Texas Outdoor Kitchen

Houston, Texas Outdoor Kitchen, Patio

Drainage System
Pearland, Texas Outdoor Kitchen

Pearland, Texas Outdoor Kitchen

Brick Paver Patio

Pearland Texas Outdoor Kitchen,

Hip Roof System, Brick Paver Patio