Travertine is a sedimentary rock and a natural chemical precipitate of carbon minerals. It originates from limestone formed over a long period. When pure, travertine is white, but often is brown to yellow due to impurities. Stone is characterised by holes and troughs in its surface. These holes are sometimes filled using grout or left unfilled for aesthetic appeal. The stone is most widely used in Italy, Greece and Turkey. The largest building in the world constructed largely of travertine is the Colosseum in Rome.
Travertine is one of the many stones that is used for paving patios and garden paths. It is commonly used as a facade material, wall cladding or in flooring. It is available in variety of sizes and patterns. Grouting travertine in different colors gives an amazingly unique effect to your floors or leave it un-grouted for more of a natual look. Travertine, also can be used on vanity tops, wall cladding, fireplace surrounds, furniture and floors.
Travertine Stone can have both a matured and contemporary look. It can portray the classically aged look on a Fireplace and the modern but pleasing look on an Outdoor kitchen floor. Beautiful travertine flooring can add natural richness and create a unique appearance in any room...IIf you are in search of a talented, affordable travertine contractor or installer... someone who can help you with your travertine flooring project, then look no further. We at Advanced Curb Appeal are trained to assist you in installing any travertine stones for your home or business. We have been in the stone and travertine installation business for over 18 years with a primary focus on quality and value.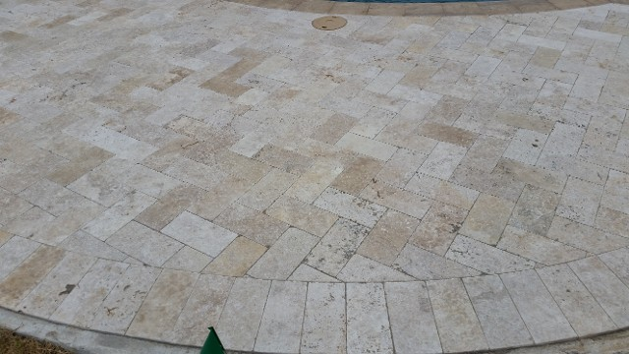 Hours of Operation: Monday – Sunday, 7:00 a.m. – 7:00 p.m.
Whatever look or type of travertine you choose for your new floor, kitchen or the bathroom, we will work closely with you, providing helpful advice on choosing the best materials, scheduling your project for your convenience and meet your budget guidelines. We will work with you to make sure that your travertine installation project is completed to your satisfaction, on time, every time. Travertine stones are the perfect way to increase the value of your home. The beauty and elegance a real travertine stone offers more than just lasting value. The newly installed travertine will bring comfort, beauty and elegance and will make your house feel more like a home.
Travertine stones come in many sizes and patterns.
It is an excellent stone both for exterior and interior applications. Travertine stones look just as great around the pool or on an outside patio as on the kitchen floor in the house. Travertine tiles also comes in French pattern. Installing travertine tiles in French pattern is a more detailed and time consuming work, but the end result is much more attractive and appealing to the eye. Tumbled travertine has a straight edge cut and the chiseled has the chipped edge. Around the pool the 1 inch thick travertine stone is commonly used. Travertine stones are great option for the surroundings of the pool because it's cool on the feet and not slippery even when its wet. A deep penetrating sealer is applied on the top of the travertine to preserve its beauty and enhance its natural colors. We can install any size of travertine pool pavers and travertine stone pool copings.
Click on Images to Enlarge
| | | |
| --- | --- | --- |
| | | |
| Santa Fe, Texas, Outdoor Kitchen, Granite counter tops, Outdoor Lighting, Travertine Patio, Walkway, Driveway | Santa Fe, Texas, Outdoor Kitchen, Granite counter tops, Outdoor Lighting, Travertine Patio, Walkway, Driveway | Santa Fe, Texas, Outdoor Kitchen, Granite counter tops, Outdoor Lighting, Travertine Patio, Walkway, Driveway |
| | | |
| --- | --- | --- |
| | | |
| Sugar Land, Texas, Travertine Patio, Retaining Wall, Fire Pit, Landscaping, Drainage System | Sugar Land, Texas, Travertine Patio, Retaining Wall, Fire Pit, Landscaping, Drainage System | |
| | | |
| --- | --- | --- |
| | | |
| Houston, Texas, Retaining Wall, Travertine Flooring. | | |
Sugar Land Travertine Bench Seating

Low Voltage Lighting Veneer
Friendswood Texas Pool Decking

Travertine Brick Pavers Drainage

Retaining Wall Walkway

Friendswood Texas Pool Decking

Travertine Brick Pavers Drainage

Retaining Wall Walkway
| | | |
| --- | --- | --- |
| | | |
| League City, Texas Travertine Pool Decking | League City, Texas Travertine, Fire Pit | League City, Texas, Travertine Pool Decking |
| | | |
| --- | --- | --- |
| | | |
| Pearland, Texas Travertine Walkway | Pearland, Texas Travertine Walkway | Pearland Texas, Hip Roof, Fire Pit, Travertine |
| | | |
| --- | --- | --- |
| | | |
| Pearland, Texas Travertine Pool Decking | Pearland, Texas Travertine Pool Decking | Pearland, Texas Travertine Pool Decking |
| | | |
| --- | --- | --- |
| | | |
| La Porte, Texas Travertine Pool Decking | La Porte, Texas Travertine Pool Decking | La Porte, Texas Travertine Pool Decking |
| | | |
| --- | --- | --- |
| | | |
| Houston, Texas Travertine Flooring | Houston, Texas Travertine Floors | Houston, Texas Travertine Flooring |