Pool Surrounding
One of the biggest trends in outdoor design today is a decorative brick paver or travertine pool deck, a colored, textured and inviting area surrounding the pool that does more than provide a safe, slip-resistant deck for sunbathing and barbecuing. Inground pool decks are now giving nearly as much attention as the interior design of the home.
Interlocking Brick Pavers and Travertine has open doors to creating pool decks that complement the exterior of the home, meld with the outdoor environment, and replacing traditionally stamp concrete decks that is known to crack and breakdown over the years.
The benefits of a brick paver or travinetine pool decks. It can provide an extremely durable surface that will expand and contract with the extreme temperatures of Houston,Texas sun leaving your pool deck crack and broken free.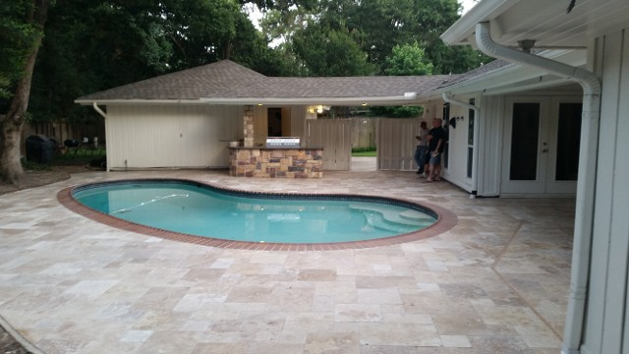 Hours of Operation: Monday – Sunday, 7:00 a.m. – 7:00 p.m.
| | | |
| --- | --- | --- |
| | | |
| Galveston Island Pool Decking Belgard Product | Cambridge Collection 3 Piece System | Landscaping Fencing Retaining Wall |
| | | |
| --- | --- | --- |
| | | |
| | Hill Country Color Selection | |
| | | |
| --- | --- | --- |
| | | |
| Friendswood Texas Pool Surrounding Renovation | Belgard Lafitt Brick Pavers | Channel Drain and Landscaping |
| | | |
| --- | --- | --- |
| | | |
| Dickinson, Texas. Pool Surrounding | | Drainage, Retaining Wall and Landscaping |
| | | |
| --- | --- | --- |
| | | |
| Woodlands, Texas. Pool Surrounding | | Drainage System, Retaining Wall and Fire Pit |
| | | |
| --- | --- | --- |
| | | |
| | | |
| | | |
| --- | --- | --- |
| | | |
| League City, Texas. Pool Decking, | Belgard Dublin Collection | |
| | | |
| --- | --- | --- |
| | | |
| League City, Texas. Pool Surrounding | Belgard Lafitt Patio Brick Pavers | |
| | | |
| --- | --- | --- |
| | | |
| After League City, Texas Pool Decking | Belgard Mega Arble, Cleaned and Concrete Sealer | Drainage System and Labdscaping |
| | | |
| --- | --- | --- |
| | | |
| | Belgard Mega Lafitt, Drainage System | |
| | | |
| --- | --- | --- |
| | | |
| | Belgard Cambridge Collection Brick Pavers | Drainage, Outdoor Kitcken, Landscaping |
| | | |
| --- | --- | --- |
| | | |
| Clear Lake, Bay Oaks, Texas Pool | Galveston Island, Texas Pool | Clear Lake, Bay Oaks, Texas Pool |
| | | |
| --- | --- | --- |
| | | |
| Nassau Bay, Texas Pool Decking Before | Nassau Bay, Texas Pool Decking Before | Nassau Bay, Texas Pool Decking Before |
| | | |
| --- | --- | --- |
| | | |
| Nassau Bay Pool Decking After Picture | Belgard Brick Pavers Cambridge Collection | Steps, Landscaping and Drainage System |
Outdoor Kitchen, Drainage System

and outdoor Shower
| | | |
| --- | --- | --- |
| | | |
| | | Columns and Drainage System |
| | | |
| --- | --- | --- |
| | | |
| | Travertine and Drainage System | Travertine and Drainage System |
| | | |
| --- | --- | --- |
| | | |
| Galveston, Texas, Pool Deck Shell Stone | Galveston Texas Shell Stone Pool Deck | Galveston Texas Shell Stone Pool Deck |
| | | |
| --- | --- | --- |
| | | |
| League City Texas Travertine Pool Patio | League City Texas Travertine Pool Patio | League City Texas Travertine Pool Patio |
| | | |
| --- | --- | --- |
| | | |
| Houston Texas Travertine Pool Patio | Houston Texas Travertine Pool Patio | Houston Texas Travertine Pool Patio |
League City Texas Travertine Pool Patio,

Fire Pit, Fountain, Baluster , Drainage

League City Texas Travertine Pool Patio

Fire Pit, Fountain, Balusters, Drainage

League City Texas Travertine Pool Patio

Fire Pit, Fountain, Balusters, Drainage
| | | |
| --- | --- | --- |
| | | |
| Pearland Texas Travertine Pool Patio | Pearland Texas Travertine Pool Patio | Pearland Texas Travertine Pool Patio |